… or it will take a while to figure it out
Shameless self-promo
Recently, I've created a new subcategory in my webshop – Flea Market.
I'll be putting there all kinds of hardware that I've tested or worked on – Retro computers, consoles, old hard drives, old PC cases, etc., etc.
I've gathered and repaired more than I thought I will so this will be a place to sell the surplus. There are some items listed already but there are way more to come. I just need more time to prepare pics and descriptions.
Most of the gear is aftermarket, often repaired and refurbished by myself, and some (like hard drives) are simply tested and listed untouched. I'll be giving a warranty period for every item so it can be conveniently tested.
If there is a problem with shipping or you have other questions, please drop me an email
Intro
This one is a short post about keycap adventures again 😀
I've been trying to resolve this keycaps issue without the use of semi-transparent paint that I've originally discovered some years ago while covering the first Extreme Refurbishing post. I am glad that this method is now widely used by other folks in the retro community but still I feel that there is more to be done in that matter.
I've covered one of my ideas in one of my blog posts before and I've failed there. However, I don't give up that easily, so I've bought (yeah, I know I didn't end up fully making a machine out of it … but I just had to know if the idea works) a dedicated machine for vacuum forming and started research from scratch.
The beginning
The machine that I grabbed from the Internetz was a VacuForm.
It came in very well packed and was super easy to set up.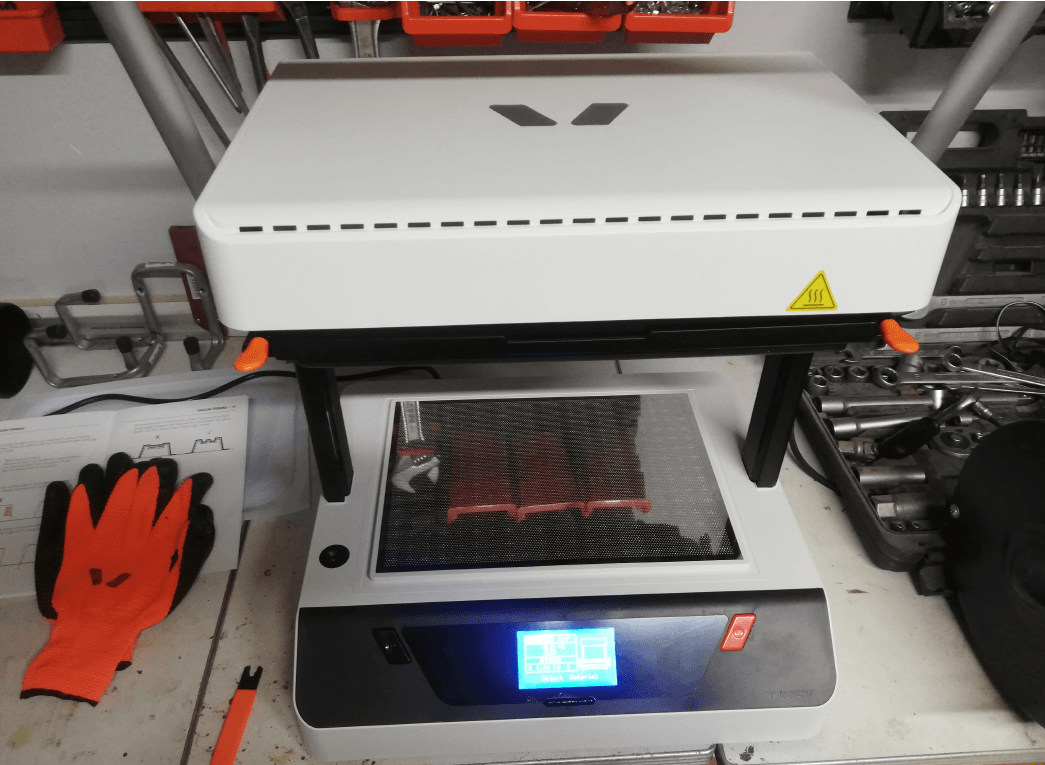 The test
To test my idea, I've prepared some yellowed C64 keycaps and started the procedure.
And yeah, 16 degrees Celsius is my standard working temp during winter ;P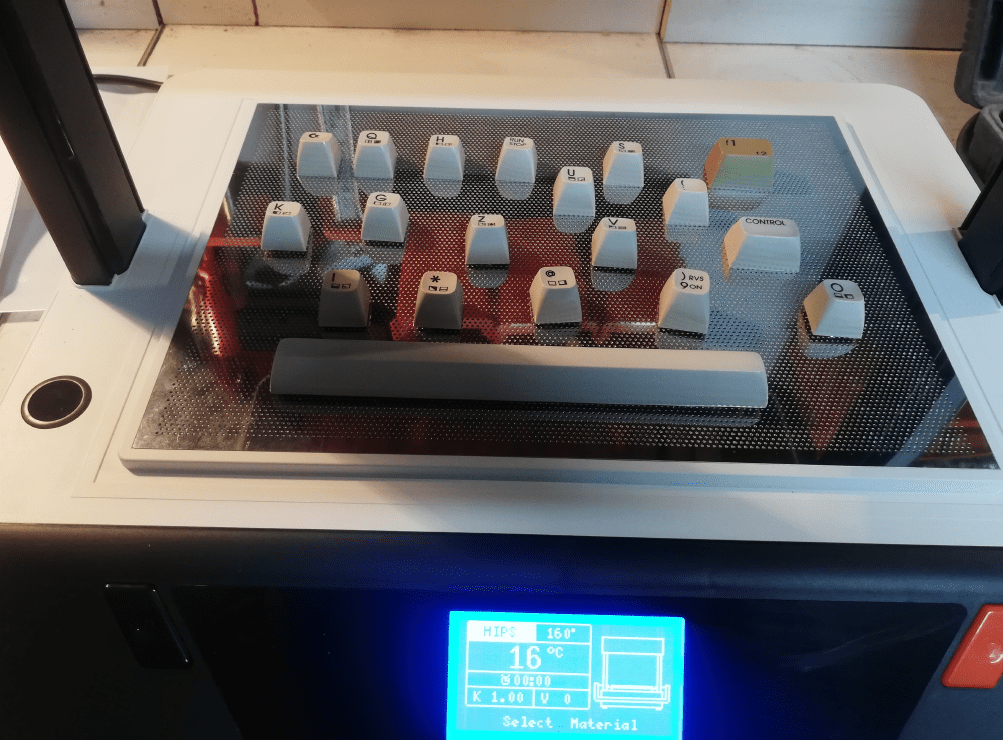 Why would you need gloves these days? LoL! 😀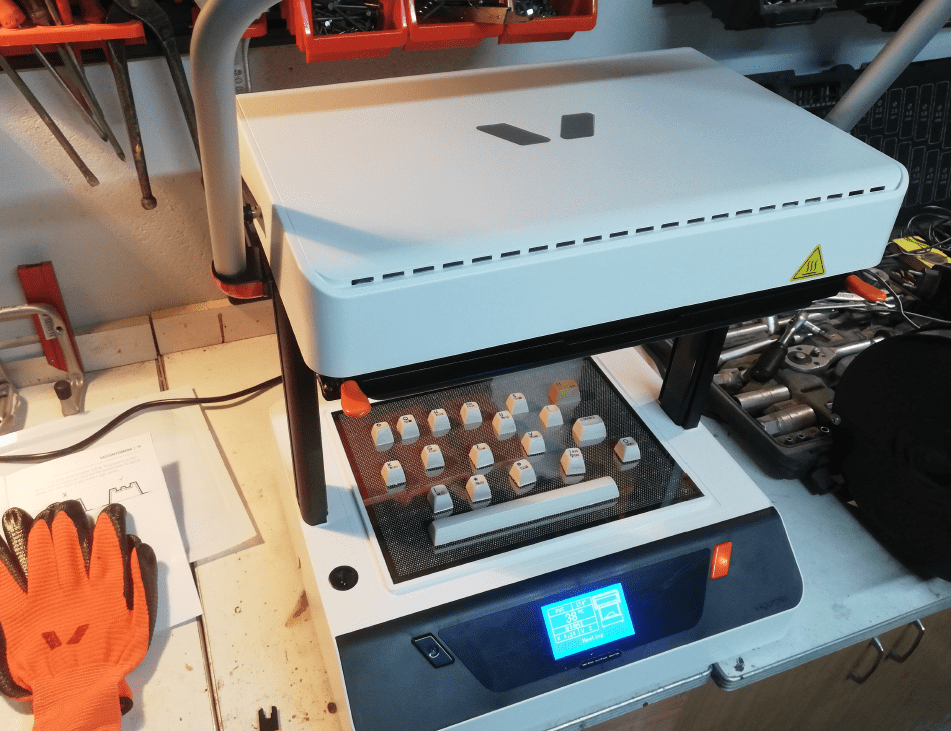 I've used a PVC foil that is widely used in car light tunning for starters and here is how it all looked.
Results
The very first problem (that is visible in the above video) is that the whole machine vibrates while sucking up air. This means I will have to make some sort of a stand for all keycaps to keep'em in place.
Also, the results are pretty lame. I didn't achieve anything anywhere close to what I would like to get.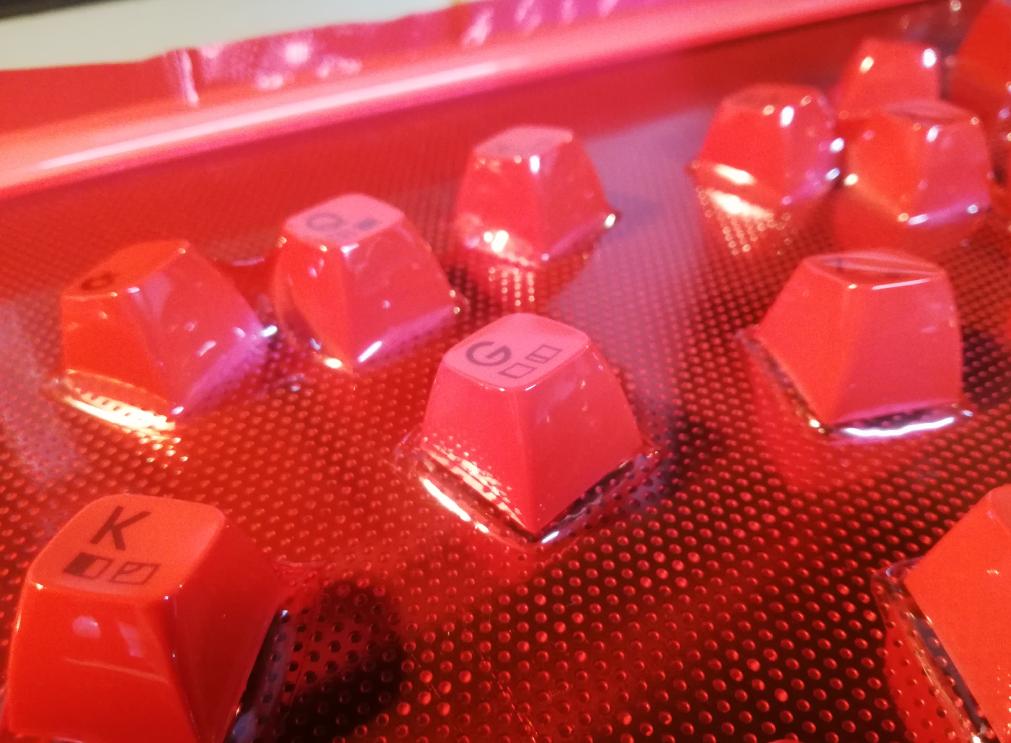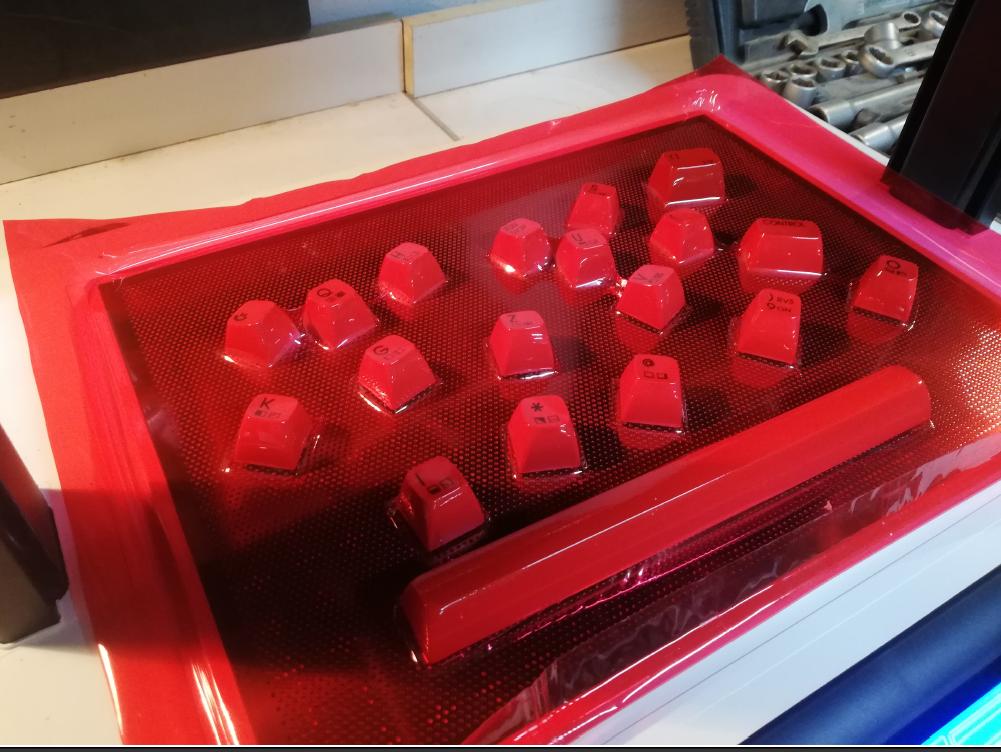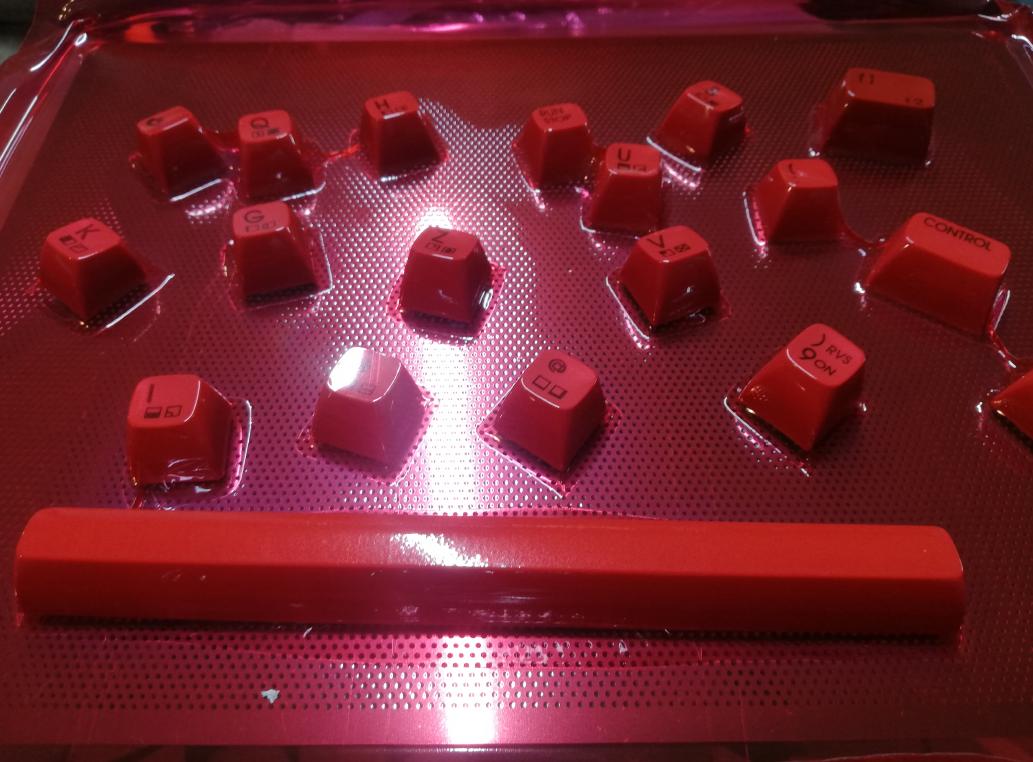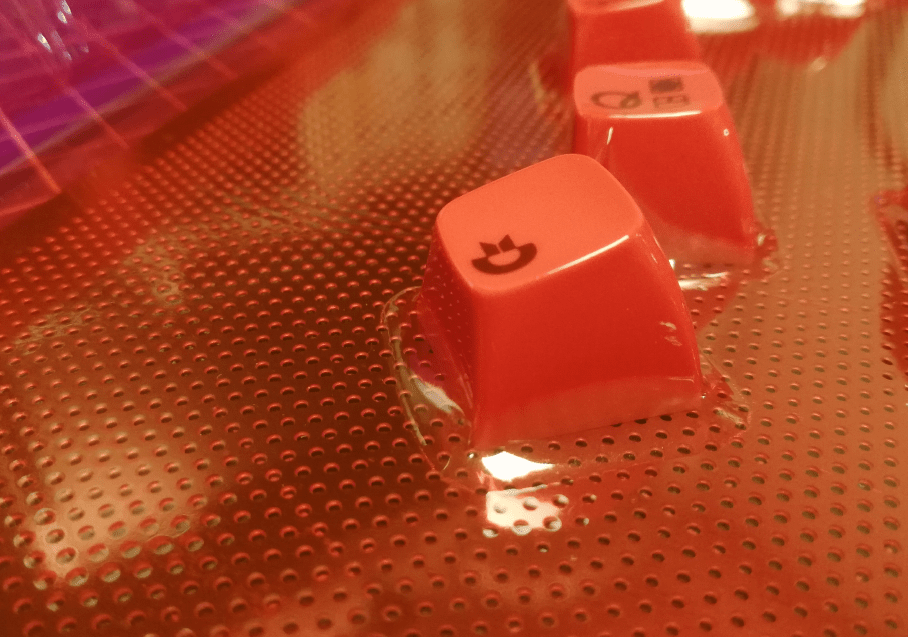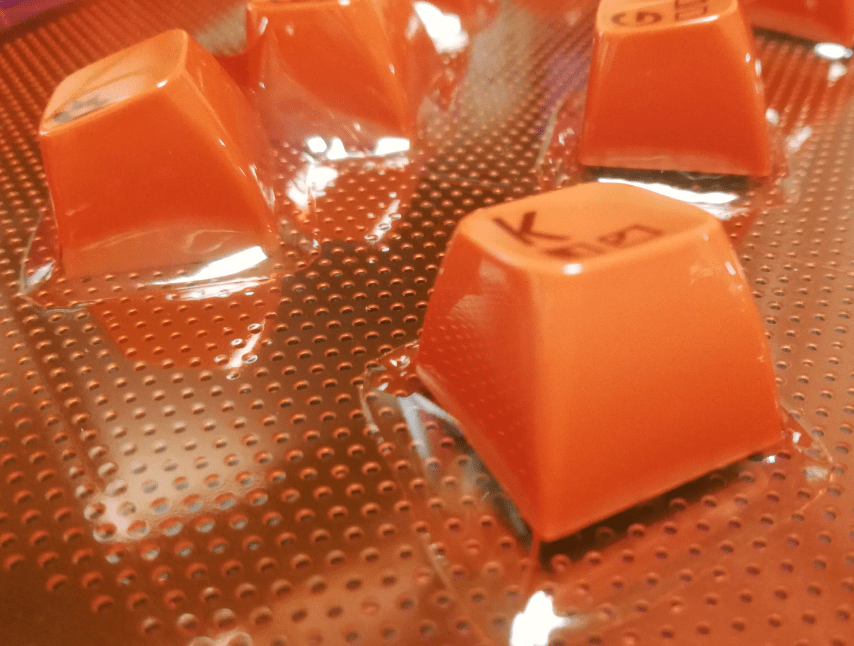 I did a second round but with quickly made standoffs and the results were a bit better but still lame.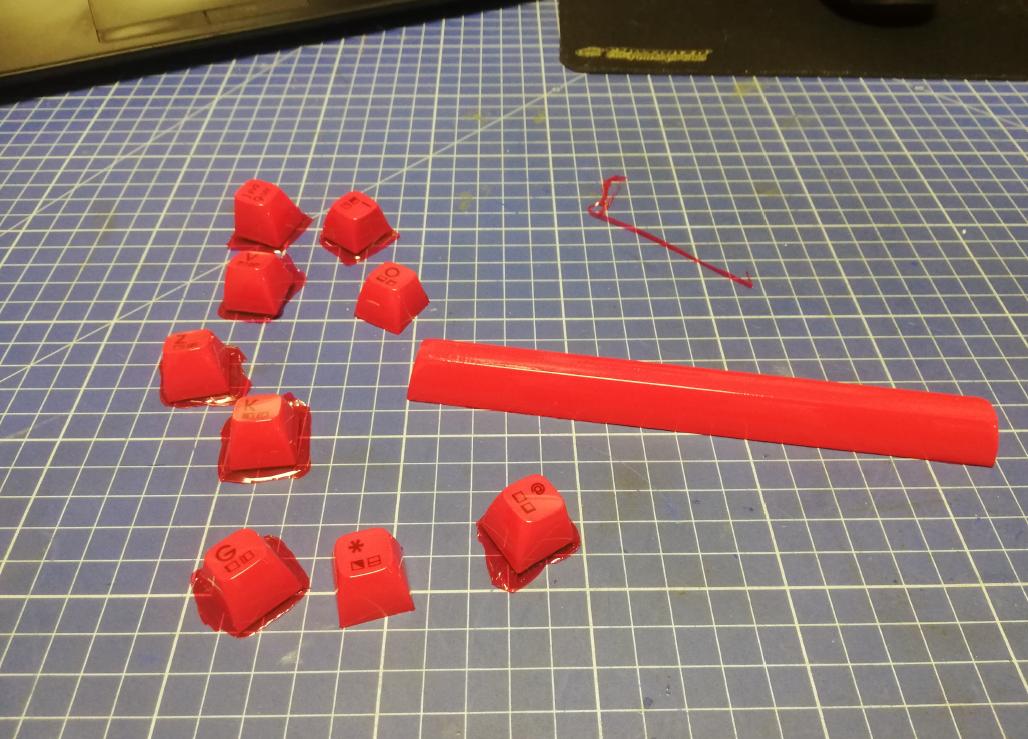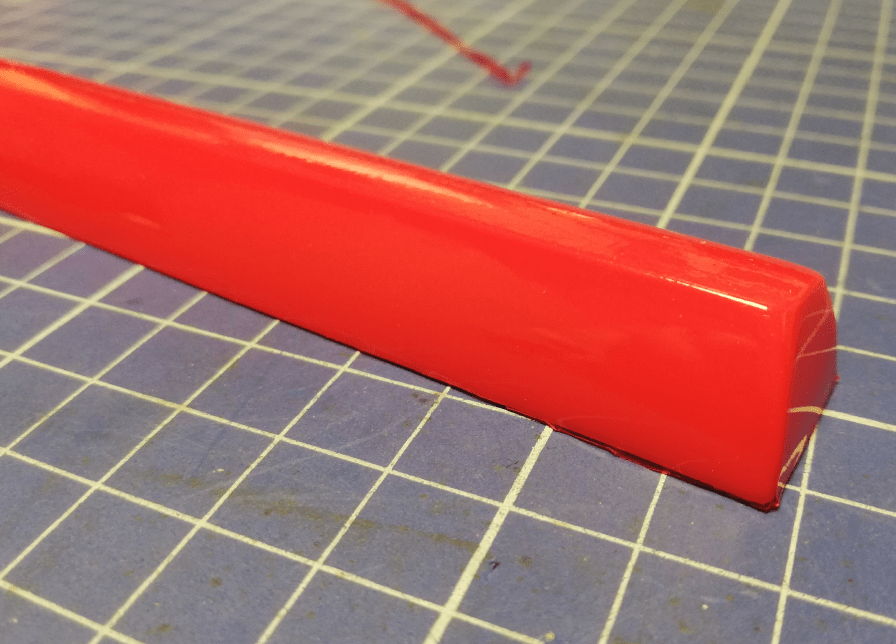 Summary
In general, the idea works well but still requires a bit of tunning. I also need to test other kinds of materials and design a proper stand for keycaps. I also need to figure out how to wrap foil under the keycap to prevent it from peeling off. If you have any suggestions or ideas, feel free to write about them in the comments section below or on FB and Twitter.
However, the good thing is that PVC can be peeled off relatively easily if you want to go back to the original color.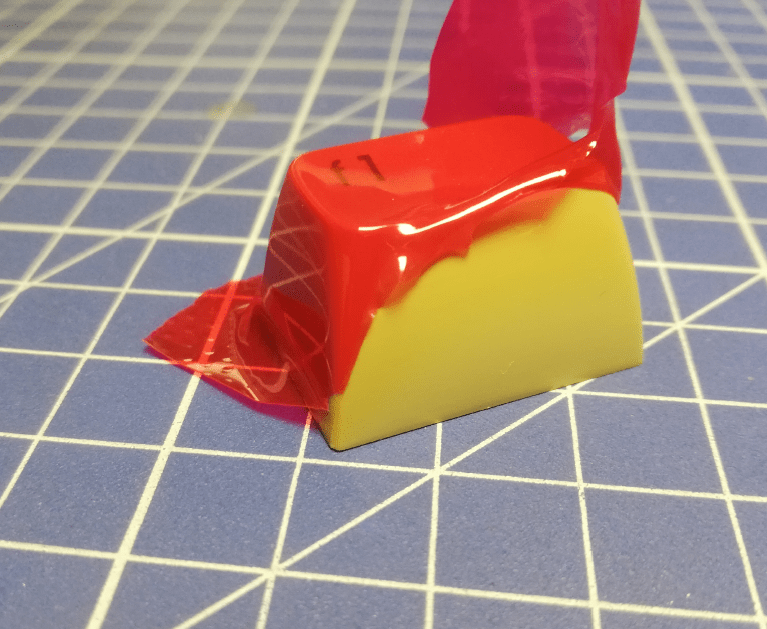 Anyway, the research continues so stay tuned 😉
Outro
If you want to get the retro gear I am manufacturing, please visit shop -> https://retrohax.net/shop/
Please support my work by commenting here and on our Facebook or Twitter pages.
If you want to donate a dead computer then drop me an email. Extreme cases are welcome. – Nobody donates anything. so don't bother. Looks like only Youtubers get all goodies LOLOL ;P <– THIS IS NO LONGER TRUE! Cheers to guys from Brasil – > YAY! I've finally unpacked it and hopefully will start working on this machine soon! Deixe o Brasil viver! 😀