… or one adapter to rule them all
The mouSTer
The mouSTer project was initially described in one of my previous posts as an adapter that will support multiple retro computers. This is a device that allows connecting any USB (not ps/2 protocol type only) mouse to as many old computers as possible.
Testing batch
In mid-summer, Willy/Lamers managed to manufacture a small testing batch and brought it over to me so I could also start testing it and we've started a rather lengthy process of correcting firmware issues.
After a lot of work, Willy finally managed to get the firmware stable and ready for the production batch.
Housing
In the meantime, I've started researching professional housing for the mouSTer. Unfortunately, It turned out as a professional failure. Initially, I wanted to create a model for 3D printing but after a small discussion, we've figured out that injection molded cases will be the way nicer solution.
This is when the problem started. We've contacted several manufacturers and all were like – Hell yeah! we can do it! however, after sending them our assembled sample boards, they've simply given up on this job. This is due to a USB port that would be filled with injected plastic. It simply turned out that the majority of such injection molding businesses, use high-pressure injection technology and we need a low pressure to prevent filling USB ports with plastic.
The next step was to check if polyurethane molding will work with this project. This is still ongoing. I will be 3D printing molds and testing them soon.
Also, as a temporary solution, I will be working on a model for 3D printing and will release STL files via blog/website.
Until a proper solution is developed, we've decided that we will simply use shrink-wrap to secure circuits.
This is how it looks.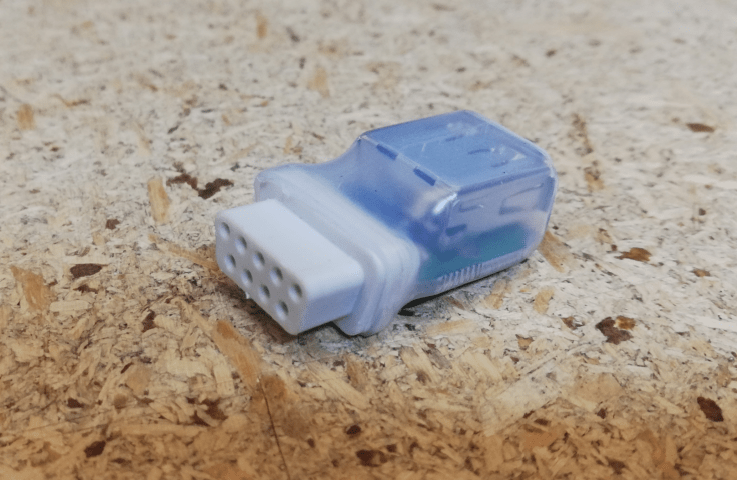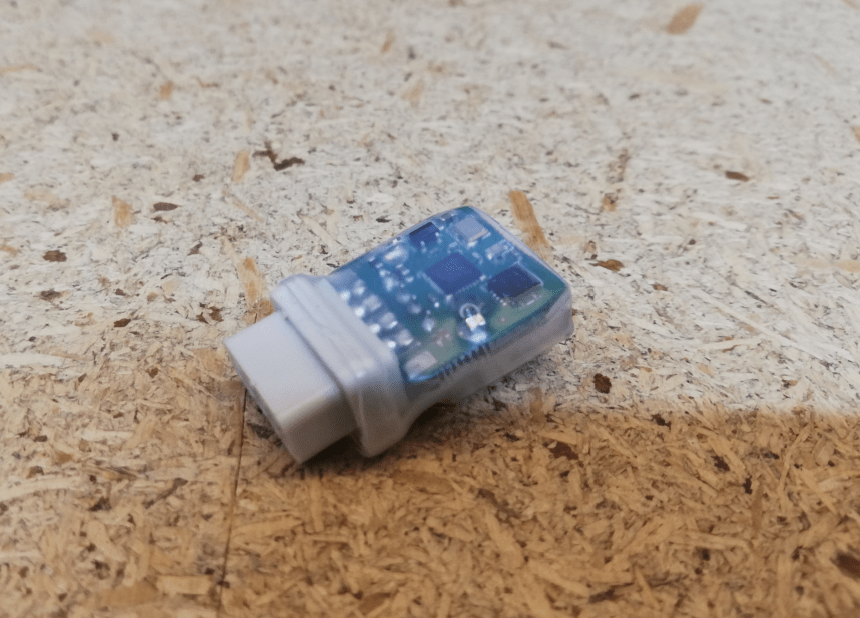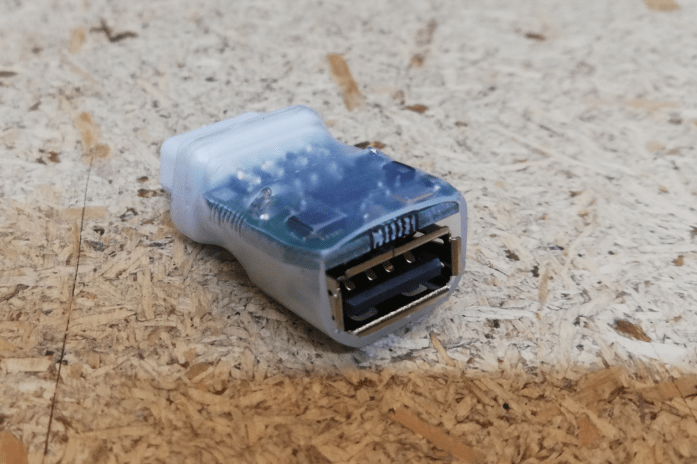 Production batch
Finally, the first production batch was ready. It was delivered yesterday 🙂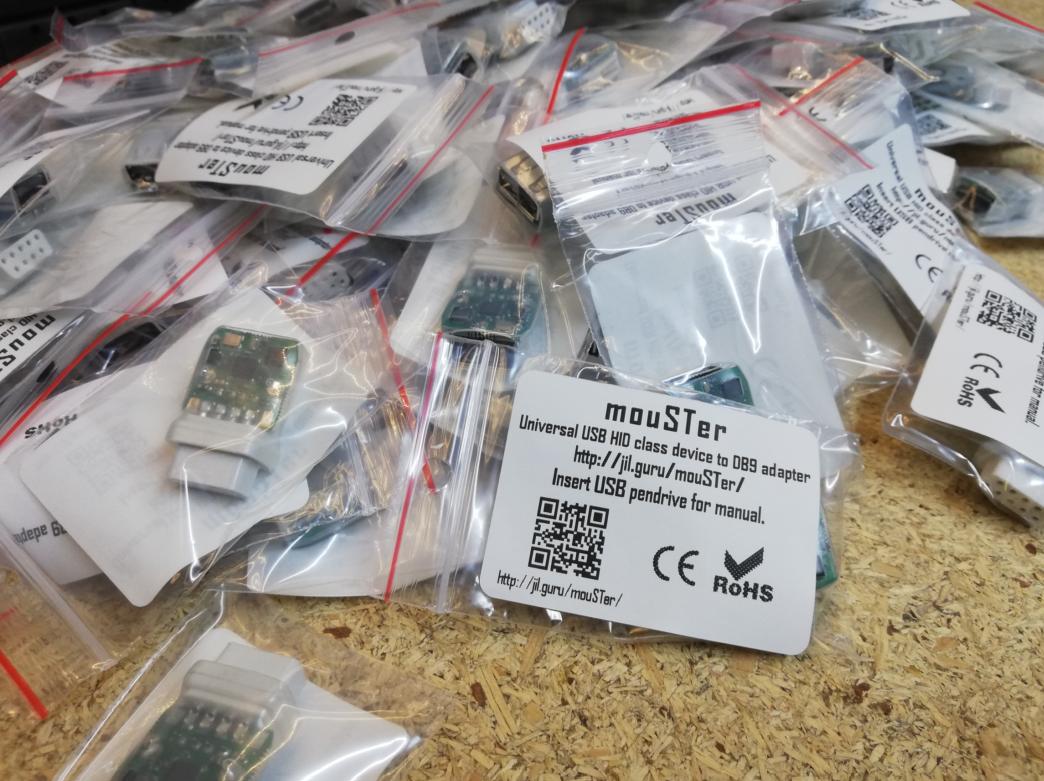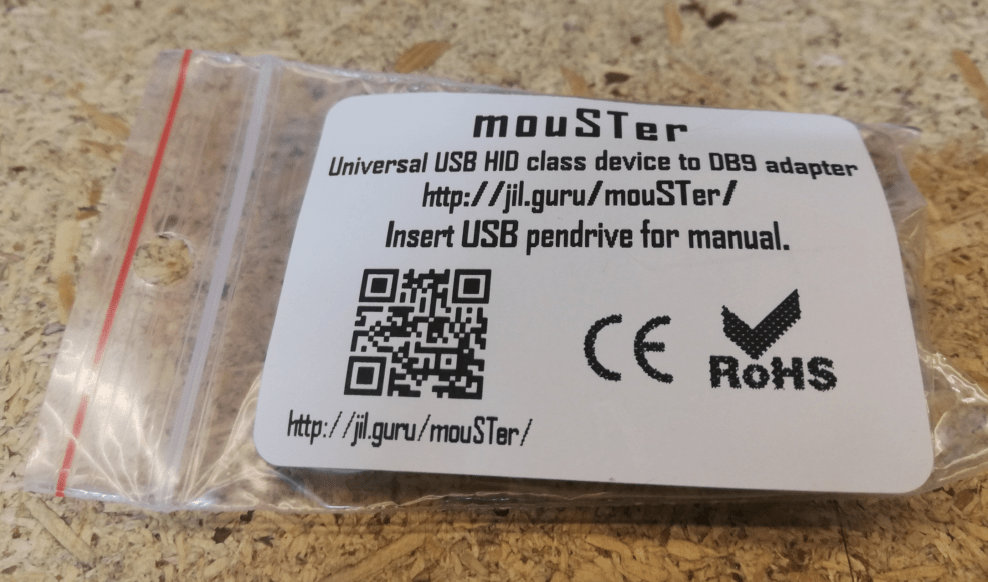 Willy set up a small website where firmware updates and news on progress will be available – http://jil.guru/mouSTer/
The QR code will also take you to this website. On retrohax.net, I will be providing updates and firmware downloads so please keep that in mind as there are more firmware upgrades planned for more hardware support.
To get a current mouSTer config, all you need to do is to connect it to a retro computer with a formatted USB flash drive and wait 3 seconds. This will result in dumping a mouSTer.ini file to this flash drive. You can edit it under a PC and reinsert it to get it uploaded back to mouSTer. Below is an excerpt from a mouSTer.ini file.
; mouSTer - universal USB HID class device to db9 adapter.
; Firmware version 3.8.1743
;
;
;                                           _/_/_/  _/_/_/_/_/                    
;    _/_/_/  _/_/      _/_/    _/    _/  _/            _/      _/_/    _/  _/_/   
;   _/    _/    _/  _/    _/  _/    _/    _/_/        _/    _/_/_/_/  _/_/        
;  _/    _/    _/  _/    _/  _/    _/        _/      _/    _/        _/           
; _/    _/    _/    _/_/      _/_/_/  _/_/_/        _/      _/_/_/  _/            
;
;
; ###############################################################################
; # User Manual                                                                 #
; ###############################################################################
;
; ###############################-Blink-Codes-###################################
;
; mouSTer is communicating with you using MORSE CODE or simply blinking the LED.
; List of possible messages:
;
; Very fast blinking: Bootloader is Active and is waiting for USB drive with new firmware.
; If USB drive is not detected within 2s, main program will be launched.
;
; Normal blinking: Muster is ready, and is awaiting USB HID device (mouse, game pad etc).
;
; HeartBeat: 2 fast blinks and long pause. mouSTer is alive and operational.
;
; SOS: <... --- ...> Critical problem has occurred. Not possible to recover from this state. Only power cycling is possible.
;
; E: <.> An error has occurred. Remove USB device | Check INI file syntax.
;
; R: <.-.> Operation successfully finished. Remove the USB device.
;
; ##############################-Using-an-USB-Drive-##############################
;
; When USB drive is inserted, mouSTer is looking for a 'mouSTer' folder.
; If the folder does not exists, it will be created and opened.
; Then mouSTer is looking for configuration file: 'mouSTer.ini'
; If exists, configuration will be readed and parsed then written to memory.
; If no ini file is present, mouSTer is looking for new firmware file: 'mouSTer.fw'.
; If firmware file if present mouSTer will activate the bootloader, and install new firmware.
; In case if no ini nor firmware is present - mouSTer will write current firmware and this manual
; into 'mouSTer.ini' file.
;
; mouSTer is case insensitive.
;
; mouSTer config   file: '/mouSTer/mouSTer.ini'
; mouSTer firmware file: '/mouSTer/mouSTer.fw'
;
; most up to date information and the latest firmware is always available at: http://Jil.guru/mouSTer
Current and future hardware support
As to hardware support, mouSTer was tested and confirmed fully working with the following computers:
Atari ST/STe series
Atari Falcon
Amiga 500/600/1200
Amiga 2000
What we didn't yet test but should work with mouSTer:
Amiga 3000 / 4000
8-bit Atari series – XL/XE
Commodore C64 / C128
EDIT: After listening to an excellent "This week in retro" podcast (Cheers guys ;), I've realized that I didn't list Amiga 1000 which should also work. I will test it ASAP as I do have A1000 Phoenix here 😉
It also supports nearly all USB flash drives (config dump and upload), Playstation 4 controller, and nearly every USB mouse. For obvious reasons, all those mouse devices with lots of LEDs and additional electronics might not work due to the poor current output of DB9 ports in old computers. Technically mouSTer supports these devices but there simply won't be enough juice to power them.
Availability
The first production batch was only 220 units. We are making preparations for a fresh batch very soon.
Currently, the mouSTer adapter will be available at https://retrohax.net and eBay.com through our reseller.
It is available in retrohax.net Webstore -> https://retrohax.net/shop/amiga/mouster/
OUTRO
If any of my readers know any solutions, hints, or knows where I did mistakes, then please leave a comment here or on my FB and Twitter pages.
If you want to get retro gear or hardware modules, please visit our shop -> https://retrohax.net/shop/
Please support our work by commenting here and on our Facebook and Twitter pages.
If you want to donate or repair a dead computer then drop me an email. Extreme cases are welcome