… or why open hardware rocks !!11one!eleven
How it all started
One day, I was doing a lot of pretty much nothing. Suddenly I heard a weird sound … PING PING PING.
To be honest, I completely panicked and started to run around, screaming and shouting: POOOTAAATOOOES FROM HELL !!! RUN !!!
Then I realized that it was a sound of an incoming message on my IM …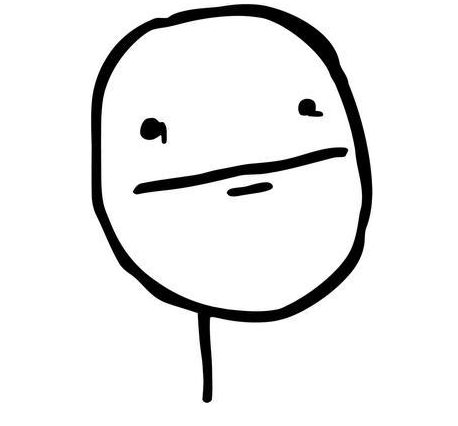 … it was Sheriff a.k.a Szeryf of Lamers who wrote to me (no not Chuck Norris, but quite close ). Once the dust settled, I was able to answer. Sheriff asked me if maybe I could fabricate a homemade sio2sd for him since he didn't have one at that time.
I didn't know that it all was about tricking me into doing something actually useful instead of trolling around and building useless 3D printers :>
The Project
Few seconds of web browsing lead me to this website:
http://sio2sd.gucio.pl/wiki/English
After a while of reading, I started to buy parts like crazy.
While waiting for the ordered parts I could start working on a PCB.
Here is a layout from a projects page: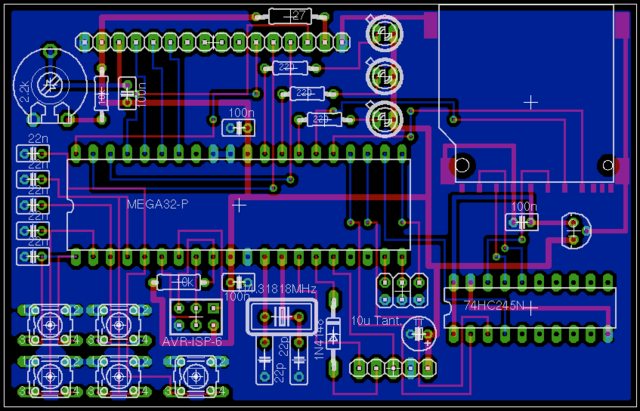 It is a double-sided PCB but it is quite simple.
All parts are THT so I figured it shouldn't be a big problem to fabricate it.
Since it was a homemade project doing the toner-transfer method was a good choice … at least at first.
Excited as fly sprayed with insecticide, I've taped printouts on blank FR4 laminate and fed it to my hacked toner-transfer LAMEinator.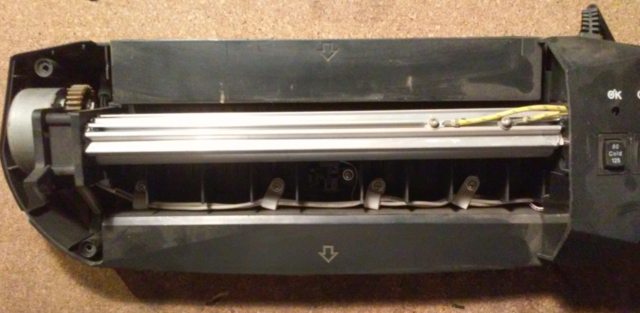 After a few passes, even more excited, I threw it for etching … but since I am a complete idiot, I forgot to properly set the ground plane on one side of a PCB in software and I've ended up with this …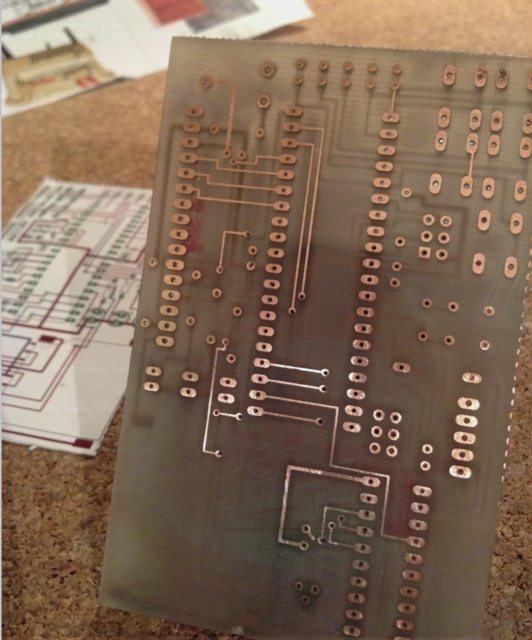 Now, a bit less excited, I've started doing the whole process again.
New printouts had a few flaws so I had to correct them with a marker pen and then I could throw them for etching. Besides the fact that it looked ugly, it turned out that the connections are OK, so I decided to stick with it to save time.
Here is a result.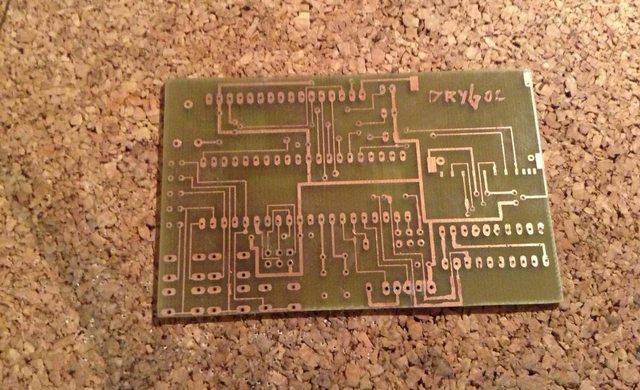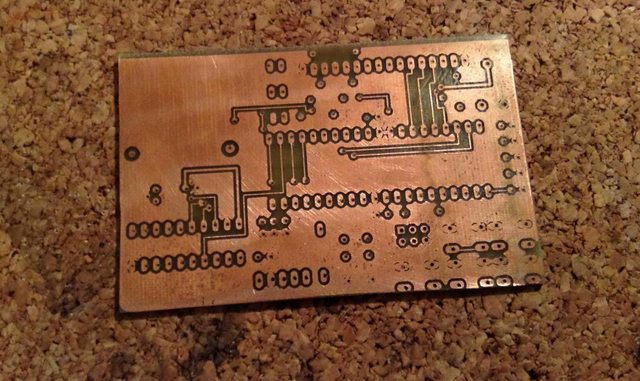 3D printing a case
The next step was to 3D print a case. I've already found a nice model created by one of the Thingiverse users – Josh McCormick – Thanks, buddy!
Here are direct links to STL files:
http://www.thingiverse.com/download:270694
http://www.thingiverse.com/download:270695
http://www.thingiverse.com/download:270696
Since I was sort of addicted to 3D printing at that time, doing this little case wasn't a big deal.
Here is a printout.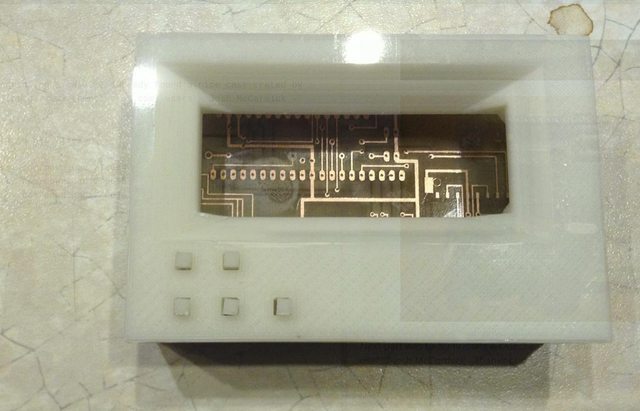 Soldering
This is one of my early homemade projects so I didn't have a lot of nifty tools and proper chemistry. No proper soldering iron, no flux, poor quality, and wrong size solder, etc., etc. That is why it all looks quite crappy.
Parts for this project were delivered quite fast so I quickly started soldering the thing.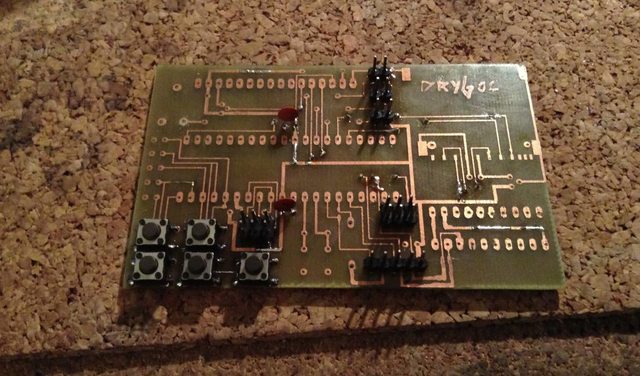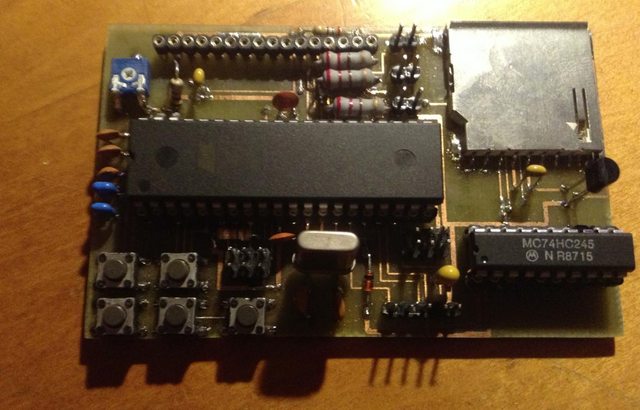 Casing and connecting it: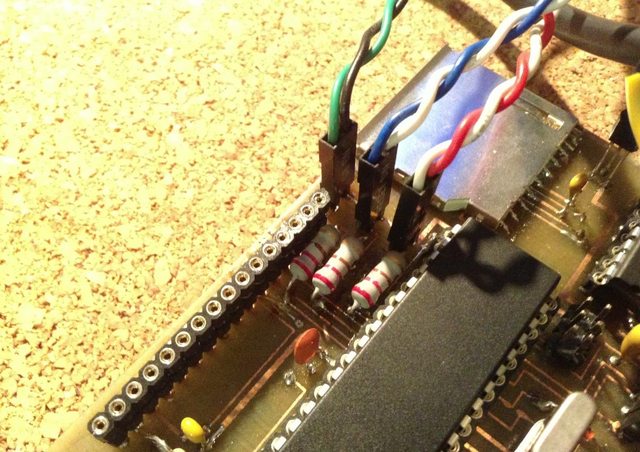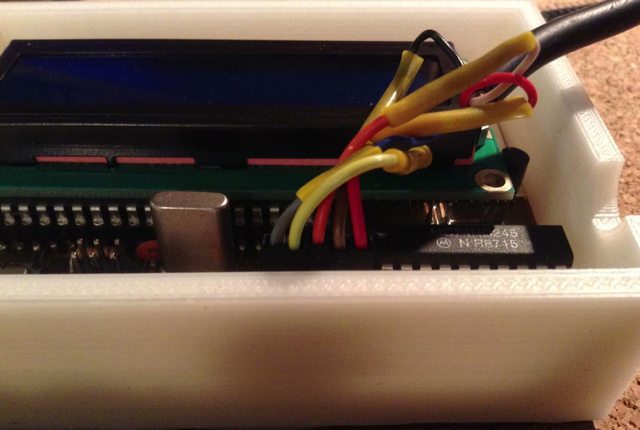 This is what I call – Drunken Testing a.k.a. not so steady hand on Friday evening ;P
Full open source/hardware sio2sd prodzekt from pit on Vimeo.
Here is an end result: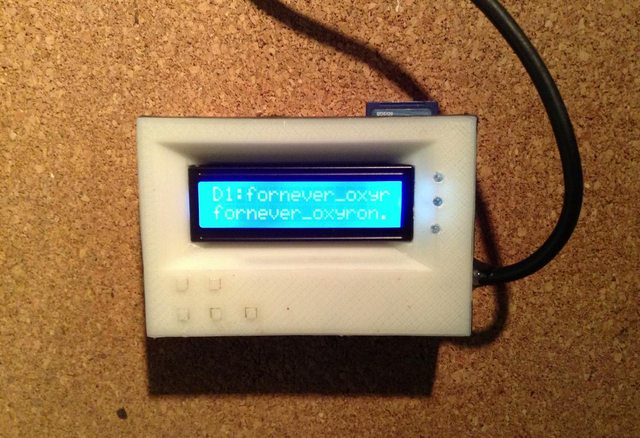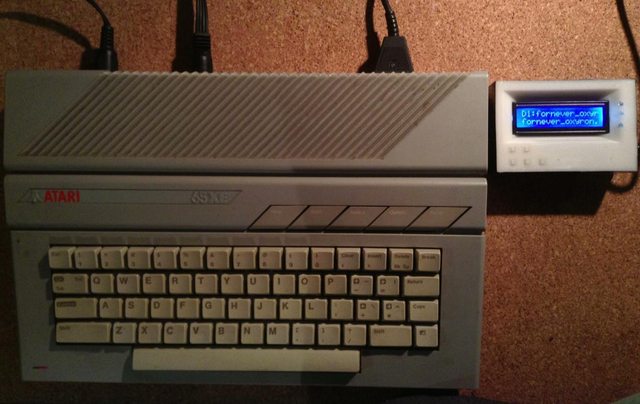 Yup, not the greatest thing I did in my garage but it shows that it is doable at home with minimal soldering skills and a couple of tools on a shelf.
Sheriff/Lamers is a happy owner and he even says it works but personally I wasn't satisfied with this particular PCB and that is why I had to ……
Level UP!
HA ! Bring on the machines!
A few months later I stumbled across a very nice project online called Cyclone PCB Factory
I've built one…. actually four to be honest, but this will be covered in one of the future posts.
A few weeks before SillyVenture 2014 my friend Johny suggested that we could add something to a pool of party prizes as a kind of support. We had a broken Atari 130XE. I don't remember what exactly was wrong with it but I think it had a faulty ROM chip (I am not 100% sure it was that) so that was an easy fix – a simple replacement. But hey ! that was a stock Atari so we needed at least sio2sd to load stuff. I've figured that I can make one 😉
I was also certain that this time it has to be at least a bit better.
Milling a PCB
I don't have a video of this particular sio2sd PCB milling but just to show you a general idea this is how this process looks:
WARNING – Loud noise
Cyclone PCB Mill 2.0 – UPGRADES !! Yiiihaaa ! from pit on Vimeo.
That was one of my first Cyclones so in a video you see that I am using a Dremel-like tool which is very noisy. Nowadays I have a dedicated spindle for milling. The process is very slow but as I said, this was one of my first PCB routers … and also keep in mind it is simple homemade hardware.
After a while of generating various GERBER files, I was ready to mill a PCB for this project. That proved to be quite a challenge because after all, this is a double-sided PCB. I had to use a few tricks to accomplish this. Using double-sided adhesive tape and additional milled reference holes was quite handy. Unfortunately, I don't have many photos. However, I have one below with partially populated THT parts.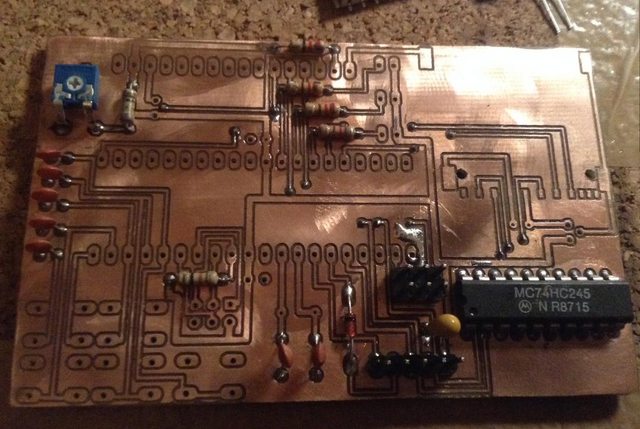 And nearly finished one:
3D printed case again
This time, a case was also 3D printed but I've covered it with Motip undercoating to match the original Atari case color and to smooth it out. I've also added a LAMERS sign along with a logo.
Here you can watch a video of the final testing:
Atari 8 Bit – Garage made sio2sd for SV2k14 from pit on Vimeo.
Funny thing is that at a party, Atari 130XE was given to our fellow group member XTD/Lamers who won Music Compo, and unfortunately, SIO2SD went to someone else – originally it was supposed to be one prize with Atari.
Anyway, that was a very fun project and I've learned a lot while making it 🙂
Also, if you want to simply buy pro-made sio2sd here is a link to a website: http://lotharek.pl/product.php?pid=23
… and don't forget to visit AtariAge forums!
Greetz:
SIO2SD Team
Sheriff/Lamers
Johny/Lamers
aaaaand of course to http://atariage.com/forums/ !!!
OUTRO
If you want to get retro gear or hardware modules, please visit our shop
New products are being added every month.
Also, please support our work by spreading info about it.
Without your support, we simply cannot grow and we have a lot of new cool retro hardware (and more) products to come