… or I just saw the best-made upgrade for Beeb
Intro
Who da faq are these guys?! 😀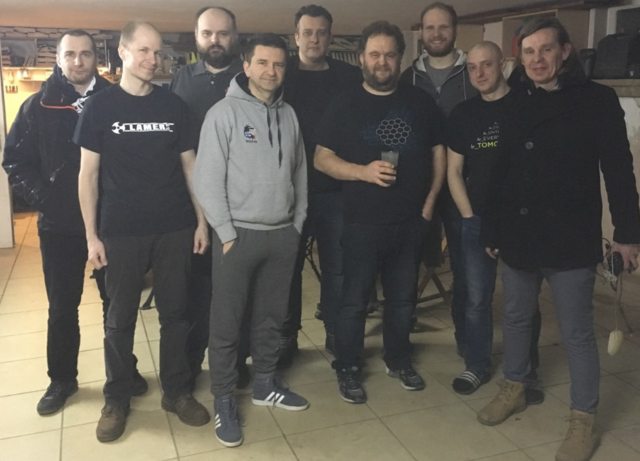 … and what they are doing in my garage lol? 😀
/intro
Yay, BBC Micro time!
I've finally managed to get one of these British electronic marvels of an era.
It is indeed a super cool machine … but before I start writing cool stuff about it, let me show you how I've managed to restore it! 😀
Wendell, one of my best supporters (cheers buddy;), asked me to refurbish, upgrade and work on BBC Micro for him.
I was like …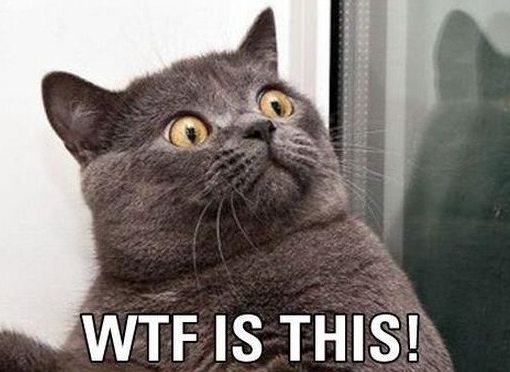 That is because Beeb was never popular in my country back in the day. This was a kinda exotic machine for me. However, I decided to give it a go … as usual 😀
Werkz
I've bought a random Beeb straight from < insert 'ur fav bidding portal here >
and waited for delivery.
It was delivered quite quickly. Here it is after unpacking.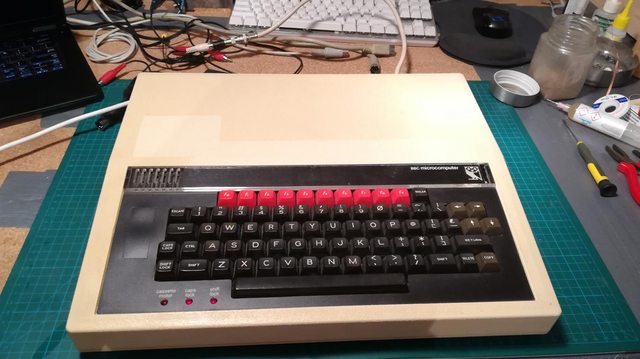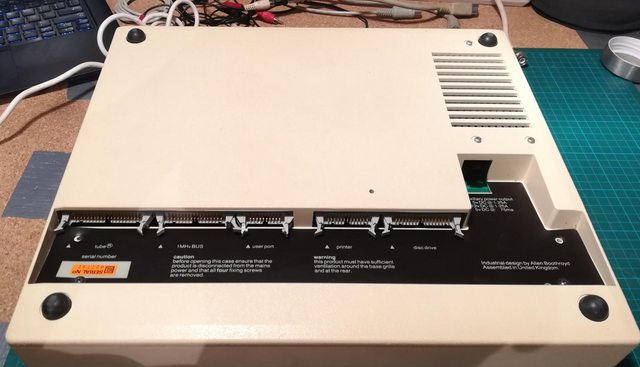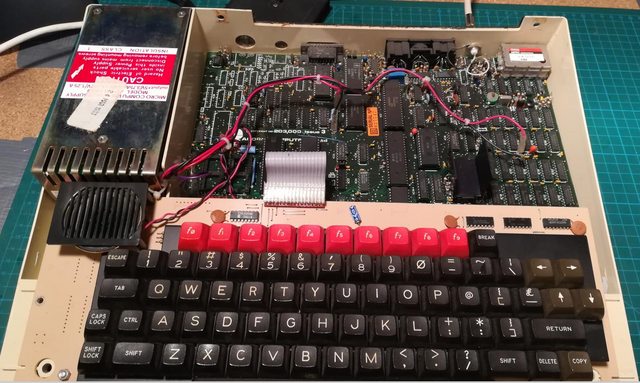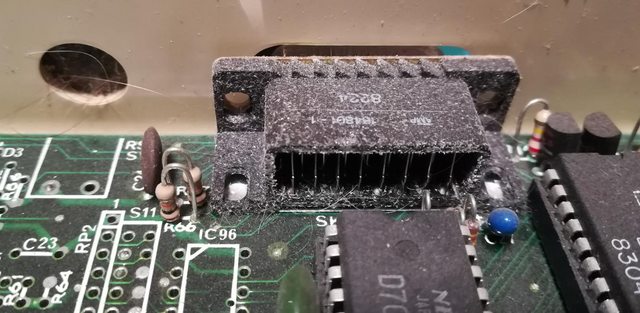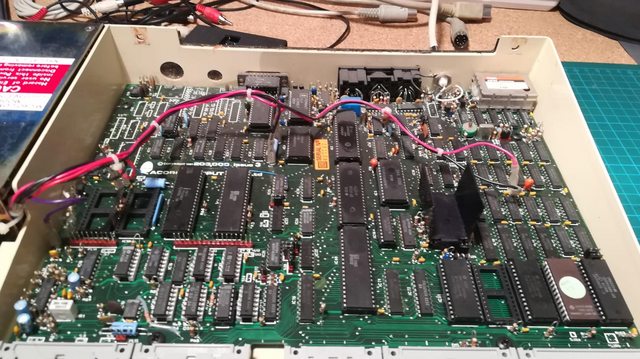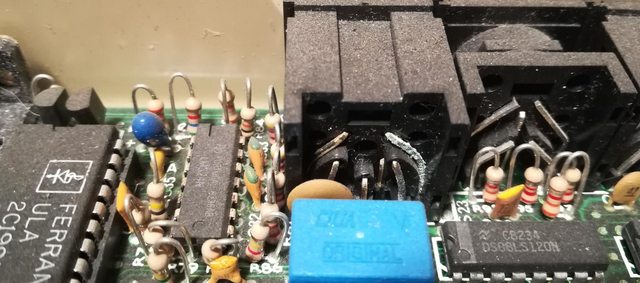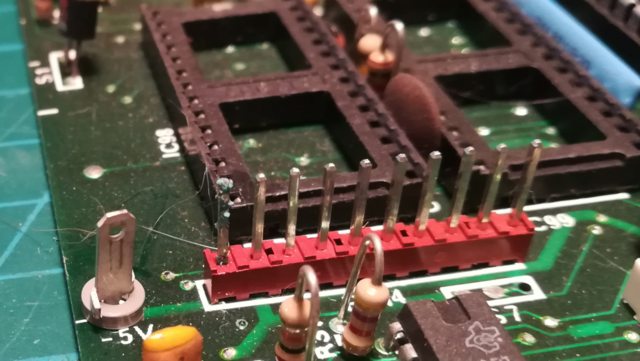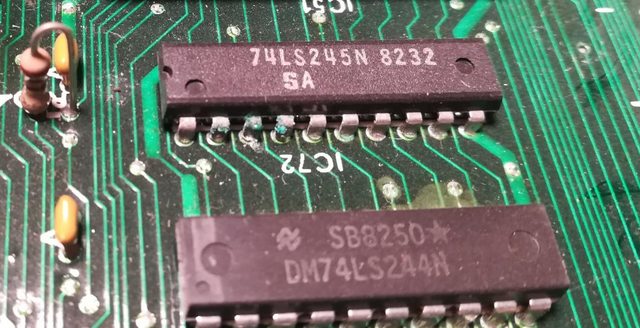 Getting job done
Soooo … The Beeb was dead. It was kinda hard for me to diagnose anything because:
I've never played with it
I've no idea how it should behave
I've no idea which parts might be broken
I've no tools to test it
I can easily state that logging in to Stardot was my best move. This is an excellent source of information. Moreover, the community that keeps on running this internet place is superfknawesome!!!
You see, I am into internetz for quite a while, and believe me, it was very rare in the past (siriuz past too) to log in to an IRC chan/forum/mailing list as a newb and be greeted like a long-time family member. I was really surprised that such normal communities exist, especially nowadays!
This site is highly recommended for all folks who want to deal with Acorns and retrocomputing in general!
The very first problem with Beeb was a faulty PSU. I've learned quickly that it is a common problem with these machines.
The majority of failures are caused by old capacitors as everyone could expect 😀
This PSU is not different but it also adds a bit of challenge by forcing you to find specific caps.
The caps that are on pics below.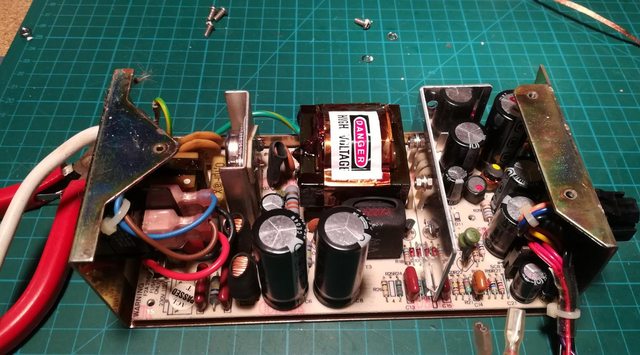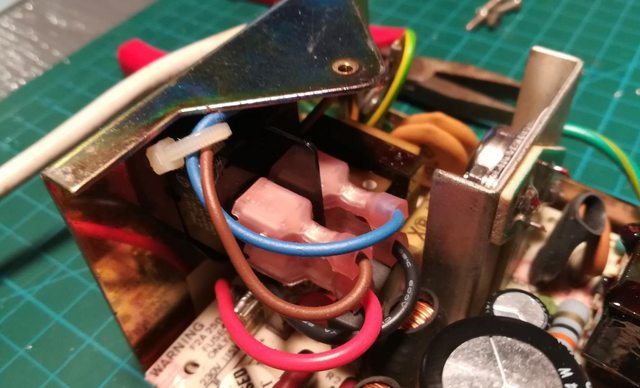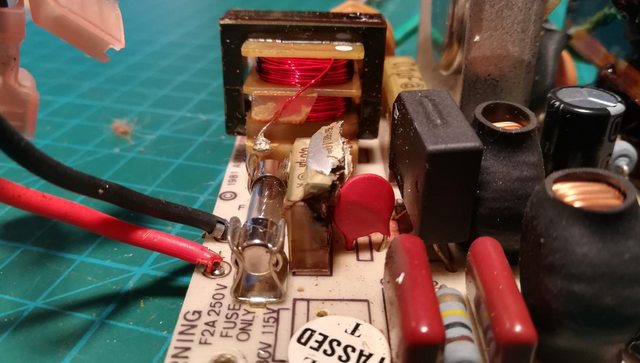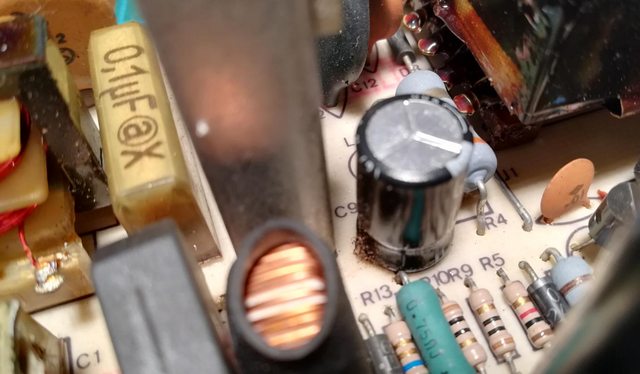 All faulty caps were desoldered …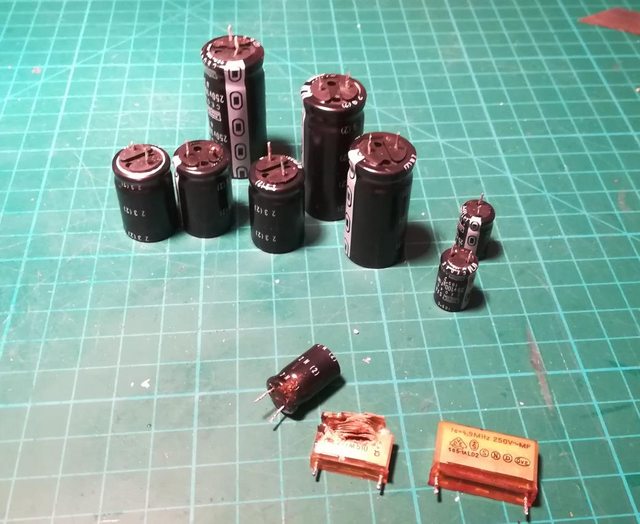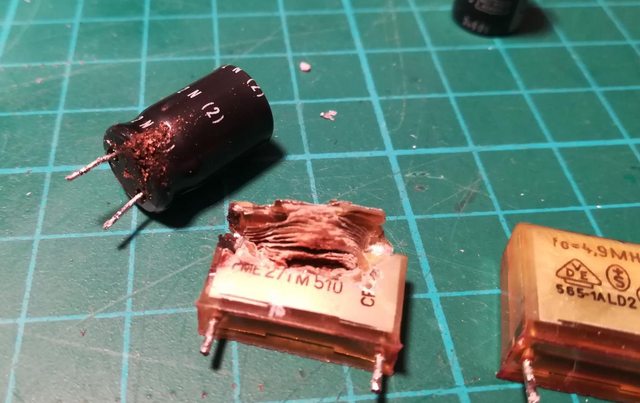 One-piece sorted! YAY!
Keyboard and case
The next thing on the list was general cleaning and deYellowing of a case.
Some pics of that job …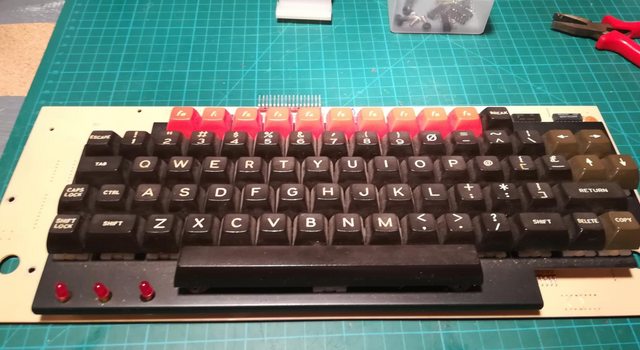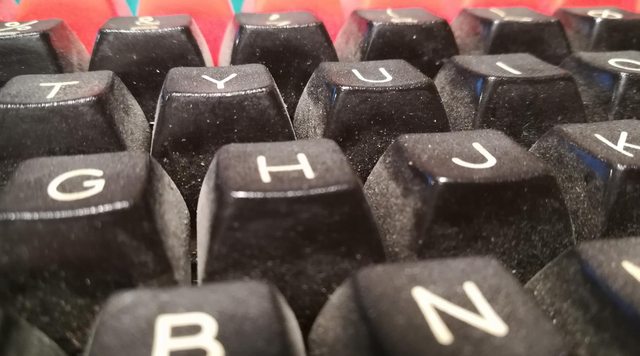 My standard method was used as usual that was described many times on my blog already so please have a look at other posts and stop asking questions 😉
… just kidding, feel free to ask questions anytime, because my methods evolve while I learn to do it better and better 😉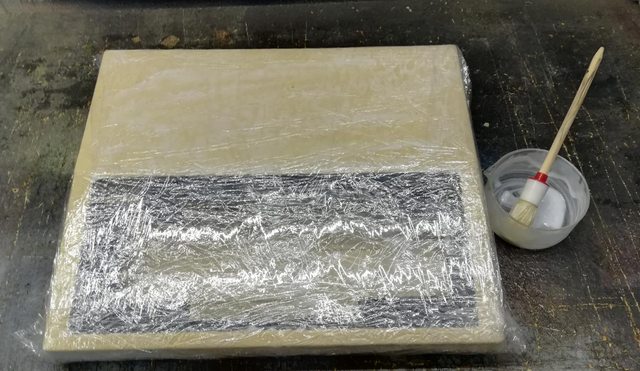 Motherboard fixes
After cleaning all the sockets and looking for corrosion, I've finally concluded that it has to be something else that is failing.
My first hunch (obviously after lurking on Stardot forums mentioned before) was that some of the RAM chips are fried by PSU killer caps 😉
This is also kinda "normal" in 25+ years of hardware so I've started to remove all of the original chips.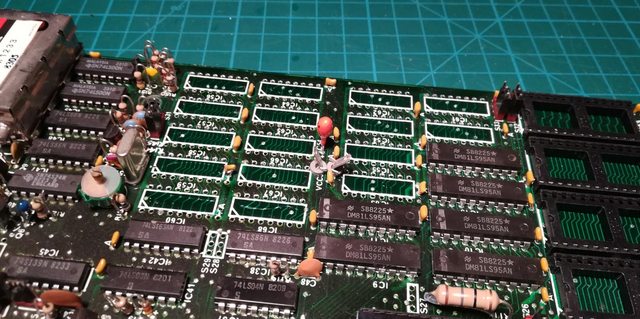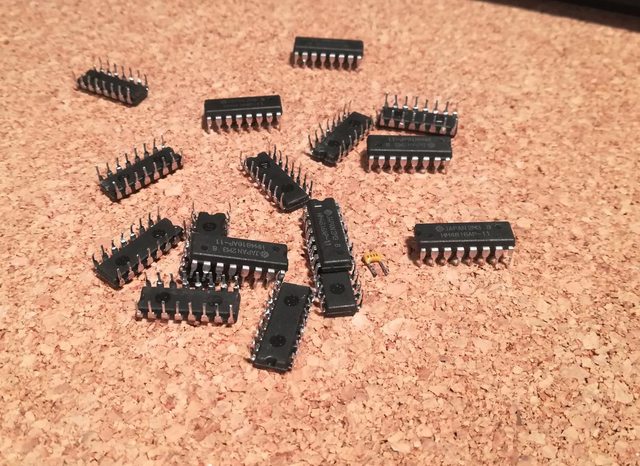 All RAM chips were replaced by new units and placed into freshly soldered sockets.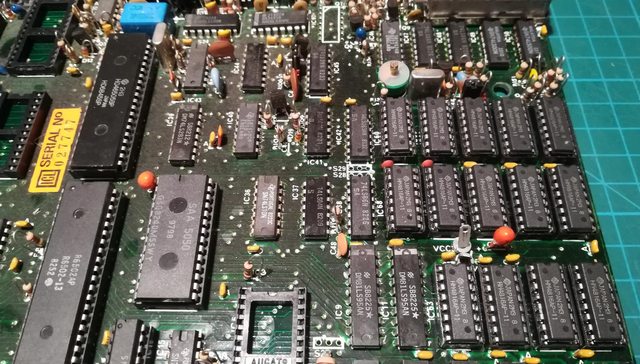 The next thing that had to be addressed was that weird(at least to me) crystalline structure that was formed on one of the sockets.
I think that these crystals are simply made of tin chloride but I obviously might be wrong so please correct me in the comments if I am wrong.
Weird to me was that it was formed on only ONE of many sockets that are placed all around this mainboard.
Here are some pics and close-ups of it.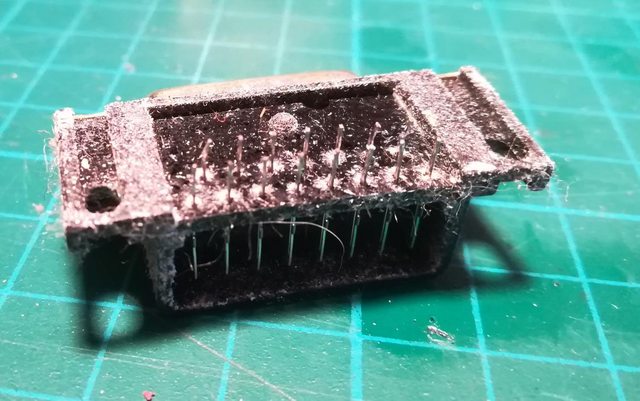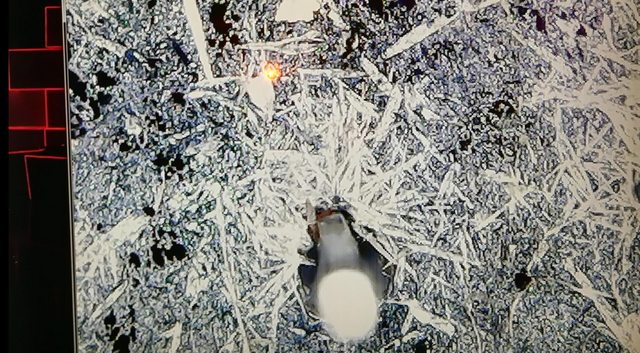 Here is a place where this "invaded" socket was mounted.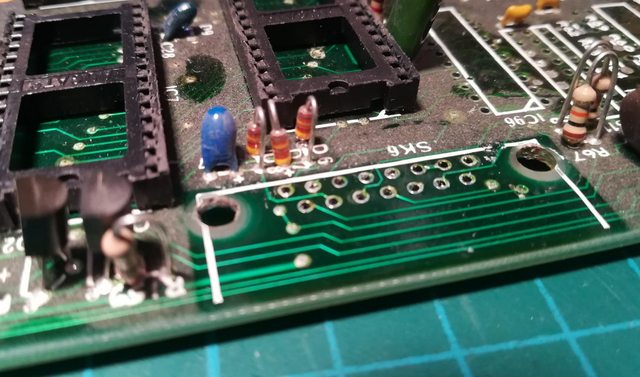 Anyway, I've cleaned it in an ultrasonic cleaner and soldered it back to the motherboard.
Also, I've figured out that replacing some shorted decoupling caps might be essential for the stability of this machine 😀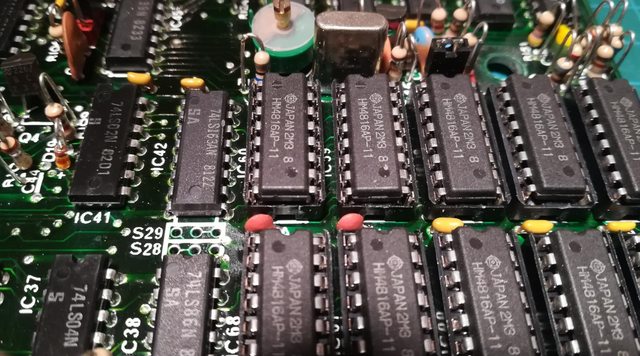 … and finally(pic with beer intentional;)
Mods
After spending some time on startdot forums I already knew which mods to get for this marvelous machine.
I've chosen two mods:
DataCentre came in first.
When I unpacked it … I was like …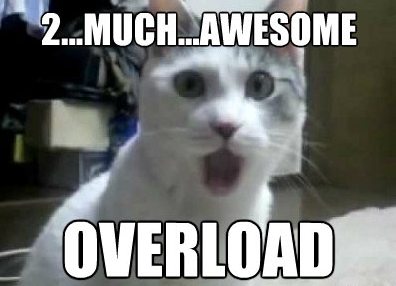 I've quite a few mods online but I've never seen so a good product.
I should also add that it wasn't so expensive. It comes with detailed documentation printed in the form of a very nice leaflet. There is also an extensive installation manual. Every single detail needed to connect it is included in this kit. This product is HIGHLY RECOMMENDED. Installation is super easy and it works right away!
Mark who makes this mod did an awesome job. Cheers Mark! 🙂
I started by installing a ROM that came in with DataCentre.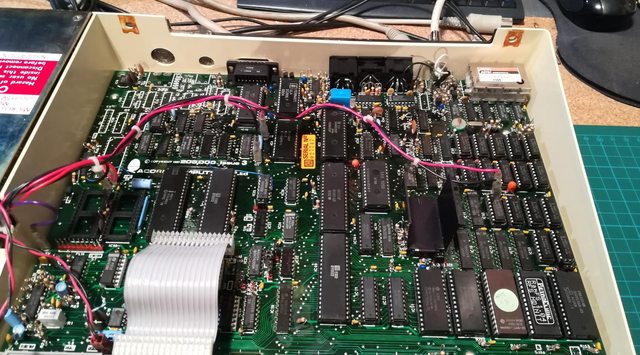 To check if it works I simply booted it and Micro greeted me with a nice screen.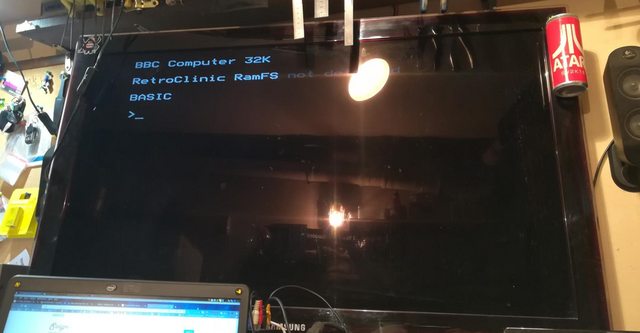 Next, I had to drive a ribbon cable under a motherboard.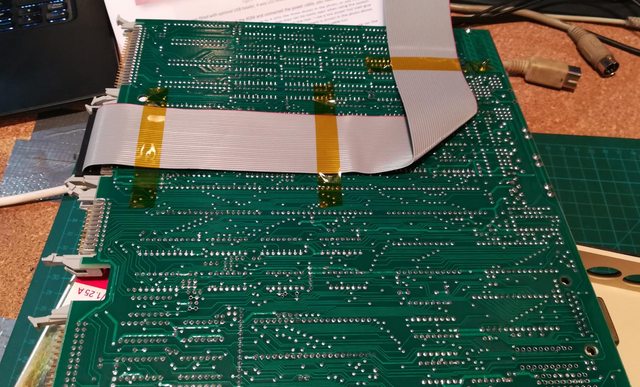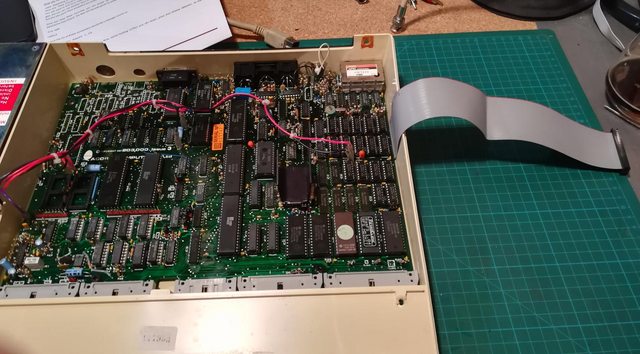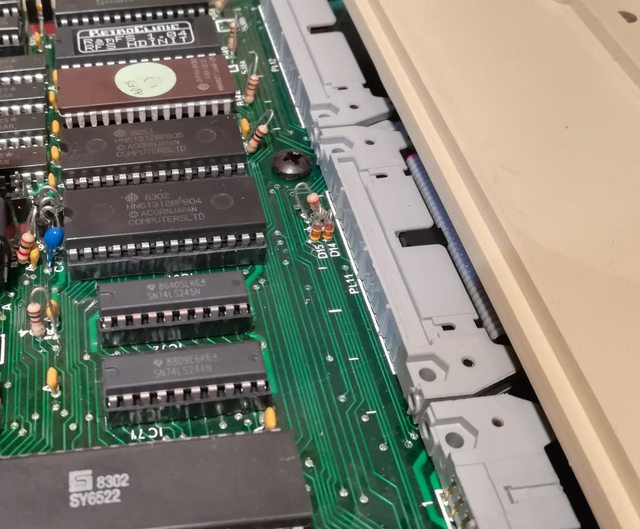 Power is provided by a computer and is borrowed from supplying leads by using a neat solution – ScotchLok. All you need is to crimp a Scotchlok on a wire and that's it! No cutting and no soldering are required!


I've drilled a 5mm hole for a status LED and mounted it in a corner of the case.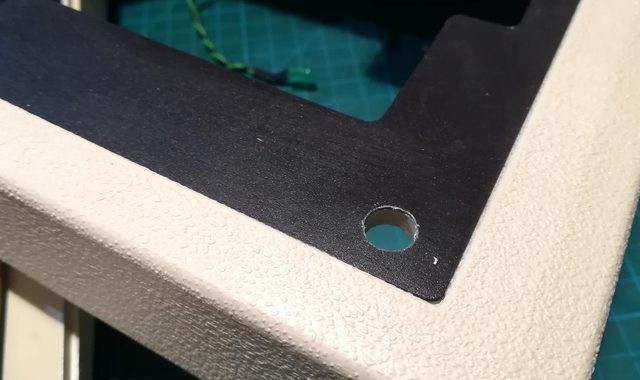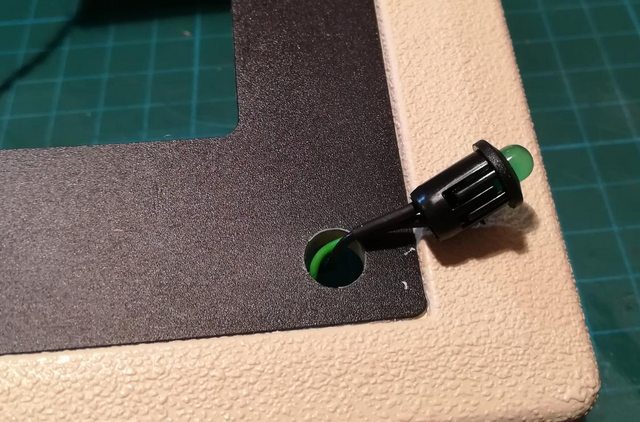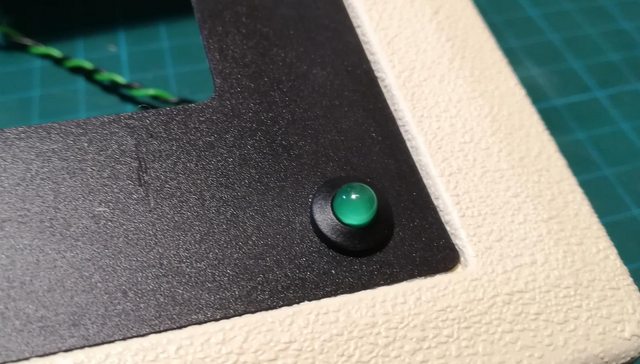 I've also installed a DataCentre PCB on mounting poles that came with a KIT and connected a LED wire to it.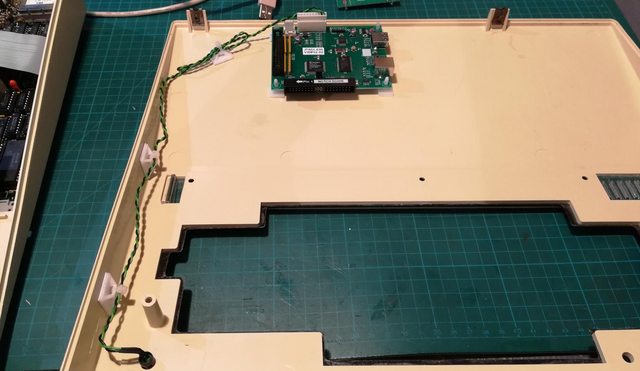 Here is a pic with all mounted and connected.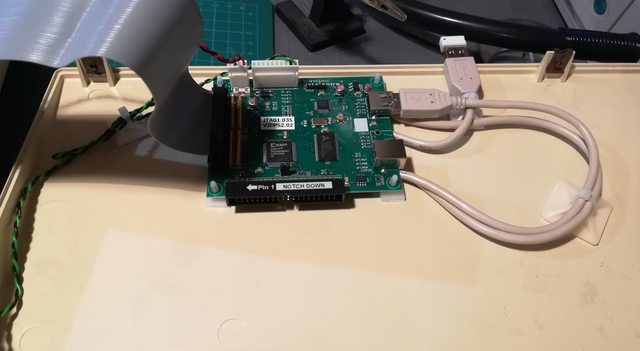 RPI Co-Pro
The next mod was ordered from one of the guys that I've met on forums.
This is an adapter that connects a RaspberryPI Zero to a TUBE port.
Here is a short description found on this awesome projects GIT page:
PiTubeDirect is a low-cost Second Processor project for Acorn's 8-bit machines (Beeb, Master, Electron, Atom) which uses two cheap chips to interface a Raspberry Pi to the Tube connector. The Pi emulates one of a number of CPUs, and also the Tube interface chip. A Pi Zero can emulate a 6502 Second Processor running at 274MHz.
Installation is extremely easy. Below are some pics of it.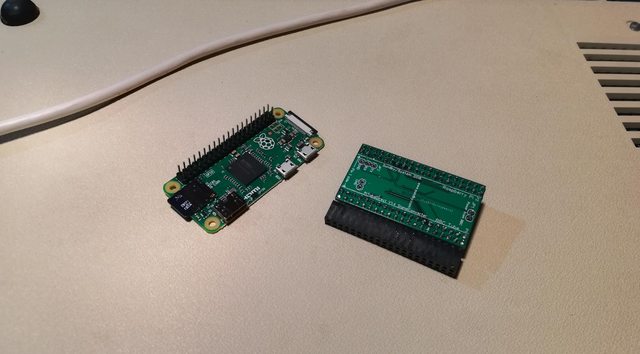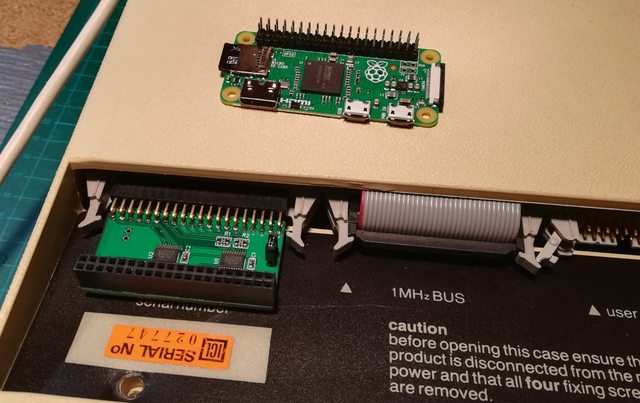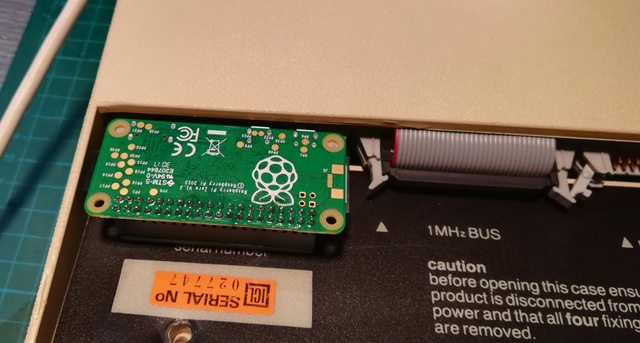 I don't have any demos of how it works since this is my first Acorn machine that I've played with. However, here is Mark's YT video with a Beeb running Elite and using RPI as a second CPU.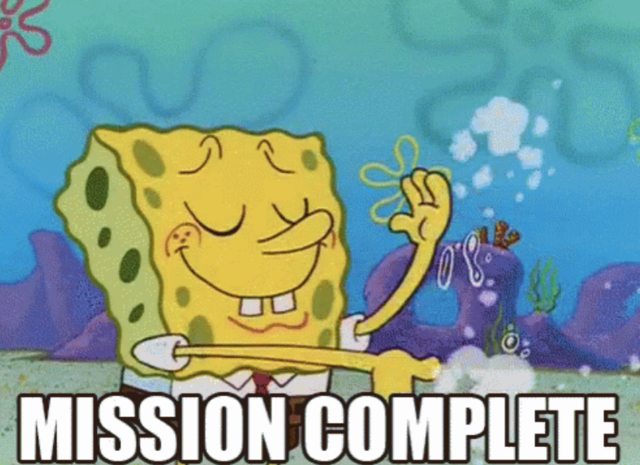 See you in the next post 😉
OUTRO
If you want to get retro gear or hardware modules, please visit our shop
New products are added every month.
Also, please support our work by spreading info about it.
Without your support, we simply cannot grow and we have a lot of new excellent retro hardware (and more) products to come